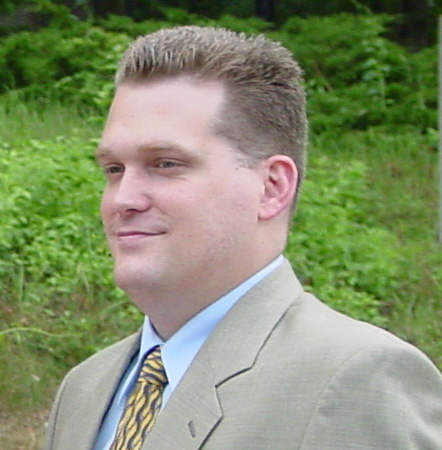 Jason R. Murdock, founder and president of Phoenix Technology
Jason R. Murdock started as a boy, building, programming, and playing with computers. His first computer was a COMMODORE VIC20. This love turned into a passion and in 1993 he started professionally in the industry as a computer repair technician. In 1995 he switched gears and became a telephone technician in hopes of gaining some insight into advanced interconnectivity options with 56k, ISDN, and T-1 lines. As most, he started with cabling but it was quickly recognized that he had a high aptitude in understanding technology with a unique ability to reverse engineer a problem to generate a solution.
Jason continued to progress in both fields by leaps and bounds passing by senior technicians in ability and aptitude with ease. In 1997 he was given a very large telecommunications and networking project to complete. It was a Rhode Island based project for a national telemarketing firm. After the successful completion he was awarded the title of lead technician in charge of all major and minor installations. He also grew into the role of "go to" guy for technical support within the company and was the highest requested technologist from customers.
In 1998 the company he worked for started its transition into becoming a unified technology company offering both traditional computer services as well as its already successful telecommunications service. In 2000, the company was sold to a publicly traded company that again was trying to offer unified technology services. This gave Jason more opportunity for advancement and he worked his way to division manager. Under his direction the division always exceeded its required revenue requirements. Unfortunately, the company had made a big stretch into a new area and found that the revenue was not there at that time causing financial difficulty.
In the beginning of 2003, Jason was approached by an associate who was forming a partnership and was asked to become the technical manager. Excited by the challenge of being part of a ground level effort in forming a new company and believing in the strength of a combining computer and telecommunications technologies Jason joined. The three of entrepreneurs met with great success in this area of technology. By the beginning of 2006 the company had grown from three employees to ten employees. By the middle of 2006 the business focus had changed and Jason left the company.
For the next couple of months Jason started to develop the concept of a new company based on the knowledge and experience from prior employment. On January 1st of 2007 Jason officially started Phoenix Technology, to provide professional information technology (IT) services in both computer and telecommunications technology for small to medium sized businesses. As part of his business plan, Jason became a Microsoft Certified Professional and earned the Microsoft Small Business Specialist competency for his company in 2007. Additionally, Jason possesses a Rhode Island Telecommunications License in the areas of voice and data services. He continues to drive his company through his proven leadership and technical skills, dedication to customer service, and a continued passion for technology.